Accordo Internazionale S.R.L. is your professional global partner in certification and attestation of documents in Belarus. Apostille, attestation, authentication and ministry legalization and consular attestation in Belarus (Byelorussia, Belorussia) are our profile business. Official Belarusian documents are apostilled and legalized by Ministry of Education of Belarus, Ministry of Justice of Belarus and Ministry of Foreign Affairs of Belarus for their further use worldwide. 
Ministry of Justice of Belarus is authorized to apostille, attest, authenticate and legalize birth certificates, marriage certificates, divorce certificates, death certificates and other documents from civil registry offices of Belarus, notarized and court document and judgments. Ministry of Education of Belarus apostilles Belarusian diplomas, transcripts, certificates and other educational documents. Ministry of Foreign Affairs of Belarus apostilles police clearance certificates of Ministry of Interior of Belarus, medical certificates and reports and other documents from government institutions and organizations. 
All official documents issued through all the territory of Belarus, Minsk, Mogilev, Bobruysk, Gomel, Mozyr, Grodno, Lida, Brest, Baranovichi, Pinsk, Vitebsk, are apostilled, legalized and attested at appropriate ministries and foreign embassies in its capital, Minsk. 
Apostilles for Poland, Lithuania, Germany, Spain, Italy, France, Great Britain, Norway, Sweden and Finland are the top requirements for documents in Belarus (Belorussia, Byelorussia). As for Spain and Italy consular attestation is often requested on Belarusian documents. Canada, China, UAE, Qatar, Kuwait, Saudi Arabia don't recognize apostille stamps, as they are not parties to Hague Convention. These states require consular attestation of documents issued in the territory of Belarus. This procedure is carried out by an appropriate consular section of the destination country in Belarus. At the same time most ex-USSR countries accept official documents of Belarus without any additional legalization and attestation. 
Taking into account different conventions and agreements made and signed by and between Belarus and other countries, it's essential to find out the exact list of requirements of the destination country and the authorized authority to deal with abroad. Then official Belarusian documents from Minsk, Grodno, Mogilev, Vitebsk, Grodno, Brest and other settlements of Belarus can be smoothly apostilled or legalized for Hague Convention and other states for further employment, study and residence formalities.   
Cost and turnaround: apostille, authentication, attestation and legalization procedures in Belarus are available from USD 55 per 1 document, from 2 working days.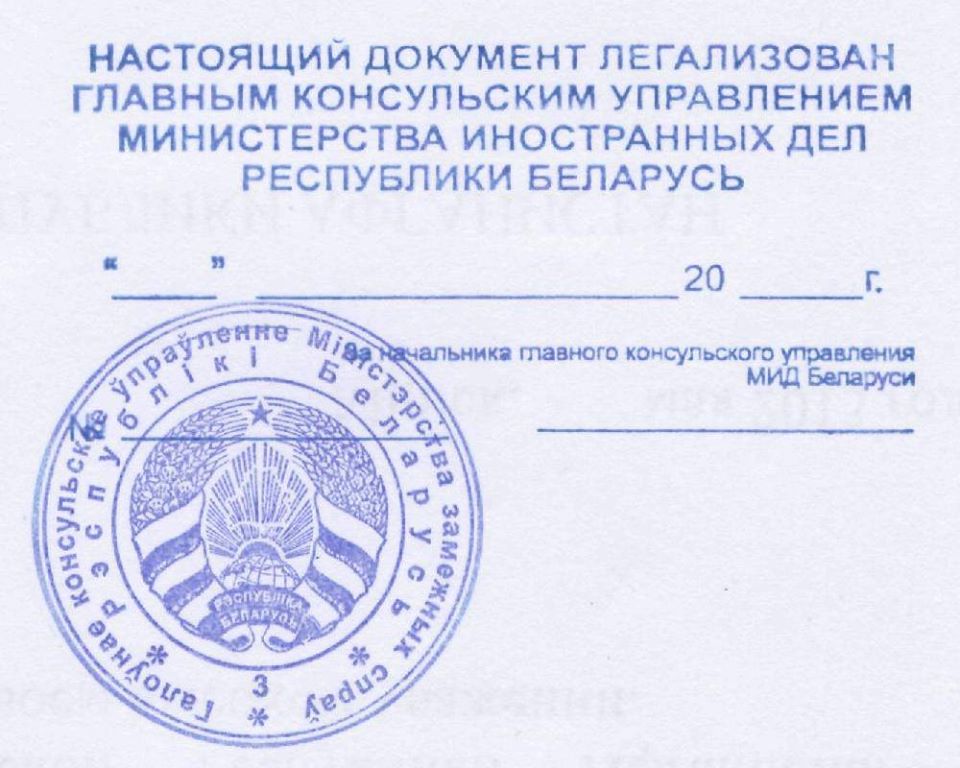 Get detailed information on apostille, authentication and legalization in Belarus: +38 044 383 25 36; + 38 095 143 05 95 (Viber, WhatApp, Telegram); accordonternazionale@gmail.com