Ministry of Justice of Ukraine is authorized to apostille notary and court documents and legalize official Ukrainian documents for their further legalization by Ministry of Foreign Affairs of Ukraine. This ministry accepts such documents as notarized translations of documents (police clearance certificates, medical reports, passport copies, certificates copies) and documents made by a Ukrainian notary and court authorities (powers of attorney, statements, court judgments). If you're going to use documents issued in Ukraine (Kiev/Kyiv, Kharkov, Dnepr, Zaporozhye, Odessa, Lviv) for Hague Convention states (Italy, Spain, France, Germany, UK, Portugal, Israel, the USA, Japan, Brazil, Thailand, India), then the apostille procedure shall be applied in this case. For other countries, like Canada, China, Kuwait, Qatar, the UAE, Vietnam, Saudi Arabia, the legalization procedure is applied.
So, due to different procedures and types of documents to be apostilled or legalized by Ministry of Justice of Ukraine the most important thing is to find out the country where Ukrainian documents will be used then. Taking into consideration that even Hague Convention states have different requirements to documents and the way they're made official (Poland, Czech Republic, Spain, Italy).
However, Ministry of Justice of Ukraine apostilles documents issued by Ukrainian notaries and court authorities remotely stamping the electronic apostille and during legalization Ministry of Justice of Ukraine attests original or notarized documents. Once the document is apostilled, it can be used in all Hague Convention states (except Italy), though translation requirements can differ. And it's legalized by this ministry, the next step will be attestation of Ministry of Foreign Affairs of Ukraine.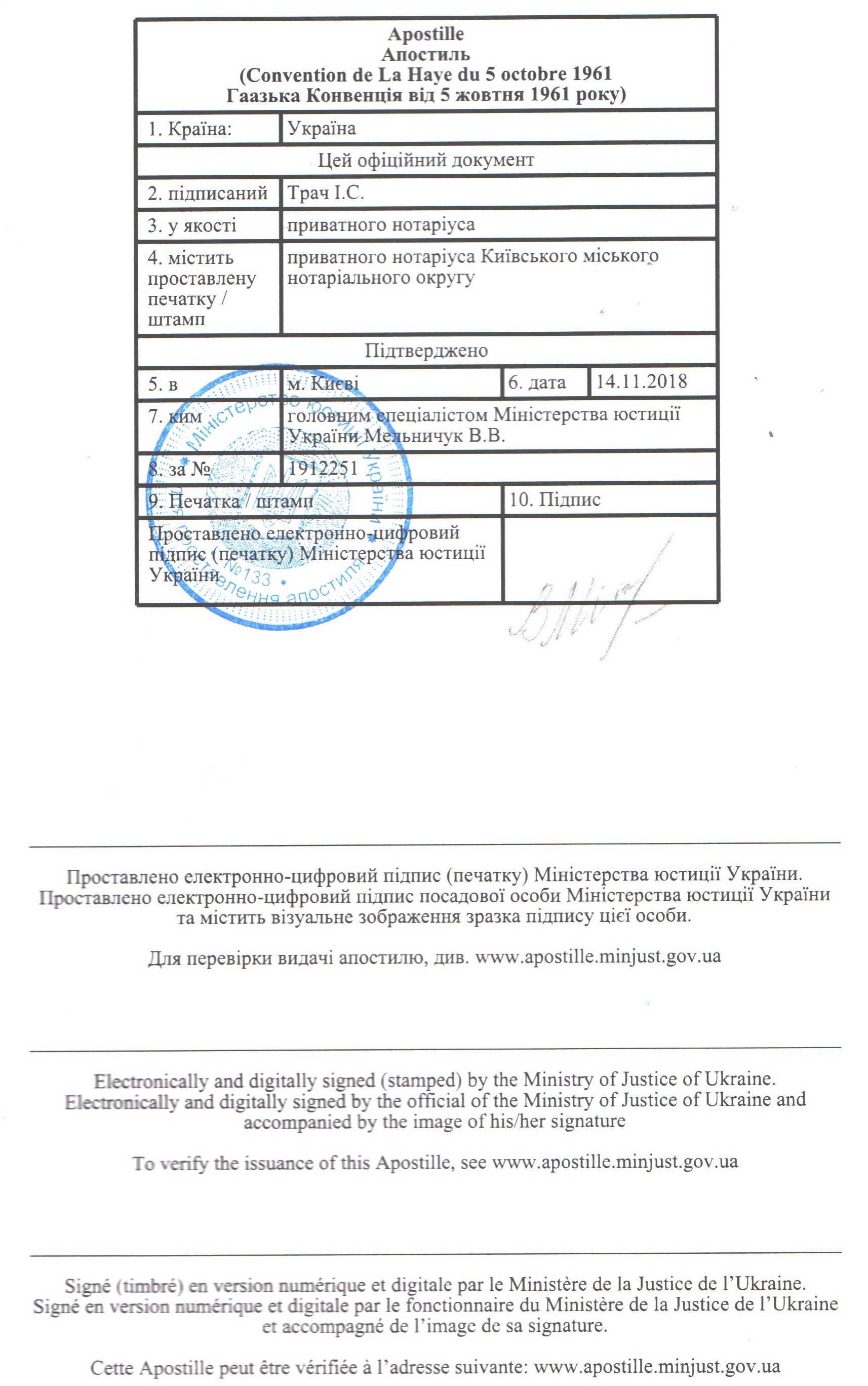 Terms and cost: apostille — USD 15 per 1 document, 2-5 working days; legalization of natural persons' documents — from USD 15 to USD 23 per 1 document, 3-7 working days.
Get detailed information on apostille and legalization at Ministry of Justice of Ukraine: +38 044 383 25 36; + 38 095 143 05 95 (Viber, WhatApp); accordonternazionale@gmail.com