Ministry of Education and Science of Ukraine is entitled to apostille diplomas, academic transcripts, school and university certificates and references issued by Ukrainian universities, academies, institutes, colleges and schools in Kiev/Kyiv, Kharkov, Dnepr, Zaporozhye, Odessa, Lviv, Poltava, Ternopil, Uzhhorod, Ivano-Frankivsk, Chernivtsi, Kirovohrad/Kropyvnytskyi, Vinnytsia and other cities of Ukraine. Ministry of Education and Science of Ukraine accepts documents for apostille procedure if they're going to be used then in any of Hague Convention states (UK, Spain, Italy, France, Germany, Norway, Sweden, Austria, Portugal, Israel, Brazil, Morocco, India, Thailand, the USA, Japan). If your educational documents will be used in non-Hague Convention area (Canada, China, the UAE, Qatar, Kuwait), then legalization procedure is applied by Ministry of Justice of Ukraine, Ministry of Foreign Affairs of Ukraine and the consular section of the state of destination. 
Ministry of Education and Science of Ukraine represented by Enic Ukraine is the exclusive authority to appostille all kinds of educational documents. During this procedure the mentioned ministry checks the seal, signature and powers of the signing official (rector, prorector, director) and if it's all ok with the presented document, then apostille is stamped or attached to the original only. 
Though, in most cases apostille on the original document is not your final stage, as at least professional translation and its certification is required. For example, Italy now asks consular attestation on apostilled and translated educational documents from Ukraine. Slovakia accepts Ukrainian apostilled educational documents without any additional certification, but sworn translation is a must for them. France may require sworn translation of Ukrainian diplomas, transcripts or certificates while Belgium, the Nethelands, Switzerland and Israel need apostille on originals with further notarized translations and apostilles on these translations. In addition to educational documents other private documents can be asked to approve educational degree and the current status — police clearance certificate of Ukraine, birth certificate, marriage certificate, bank statements).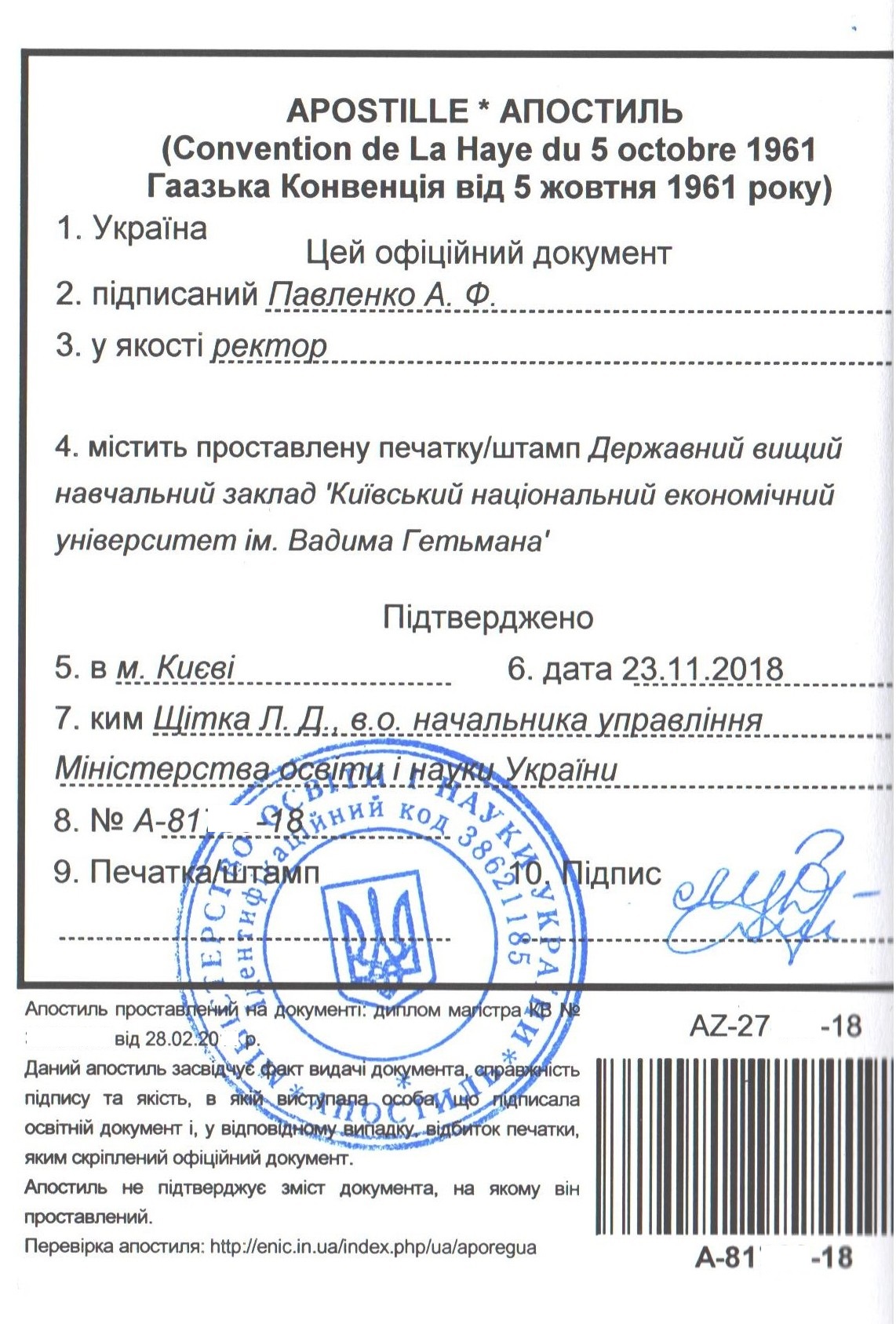 Terms and cost of apostille on Ukrainian documents about education: 30 working days — USD 30; 20, 10 working days — USD 60; 2-3 working days — USD 70; 1 working day — USD 80.
Get detailed information on apostille at Ministry of Education and Science of Ukraine: +38 044 383 25 36; + 38 095 143 05 95 (Viber, WhatApp); accordonternazionale@gmail.com