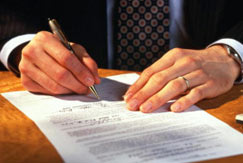 Accordo Internazionale S.R.L. is specialized in all matters regarding consular legalization of official documents for their further use in the country of destination. Preparation of documents for consular legalization procedures is not so complicated, however it has many specific and tricky nuances, that can make the total process not easy at all.   
The most interesting thing is that any state has its own specified requirements how to make documents properly. Some states like Spain, Italy, France even have several right options to form documents for their using in these countries. In particular, Spain and Italy accept documents eighter after double apostille stamping procedure, when one apostille is stamped on the original document and the other one is stamped on its notarized translation, or after original documents apostilled and then legalized by their embassies abroad. France can accept documents after double apostille procedure or apostille + sworn translation. And all the mentioned procedures are right and legal. Though exact establishments in these countries can alter these requirements at their own discretion. For example, in some cases it can be enough to provide just the original with one apostille and notarized translation. That's why, before preparing documents it should be taken into consideration general requirements of the country of destination and particular requirements of the establishment or institution where documents will be presented to and proceeded further.    
What documents can be legalized by a consular section? As this list is extremely large, consular sections can provide information on documents which can't be legalized only. In practice, the most popular documents for legalization are as follows: police clearance certificates (criminal records), birth certificates, marriage certificates, divorce certificates, judgments, notary statements, charters, power of attorneys, agreements, medical records, diplomas and transcripts, notarized copies of passports, driving licenses, etc.  
What countries require consular legalization of documents? In theory, any country can require it, but we have our own short list based on our expertise: the UAE (United Arab Emirates), Qatar, Kuwait, China, Vietnam, Egypt, Canada, Italy, Spain.
What if I don't properly legalize my documents for the specified state? Some states, like Italy, Spain, Poland, etc. have several options how to make properly documents, enabling to choose between consular legalization, apostille procedures and sworn translation, meaning that one of the option can be convenient and enough for these states. Meanwhile, the UAE, Qatar, Kuwait and other countries accept documents after prior consular legalization, otherwise they won't be accepted in any way there.  
How fast can it be legalized? Normally, documents are proceeded within 3-10 working days by consular sections. 
How can I pay and get the ready documents? As we operate with a great number of local partners worldwide, we can arrange consular legalization in different parts of the world for most countries, including the UAE (United Arab Emirates), Qatar, Kuwait, China, Vietnam, Egypt, Canada, Italy, Spain, Poland, Slovakia, Lebanon, Iraq, Iran, Morocco, etc. We have different options for payment: Western Union, Money Gram, Swift transfers, Web Money, bank card transfers, etc. Ready documents can be sent worldwide by DHL, FedEx, UPS, TNT, Poney Express, etc.