Now Qatar is quite a popular Gulf/ GCC state for specialists from Ukraine and other countries of Europe. To use  Ukrainian public documents in Qatar they must undergo attestation, authentication and consular legalization procedures like documents for the UAE/ United Arab Emirates, Kuwait and the KSA/ Kingdom of Saudi Arabia.    
The special thing about attestation and legalization of educational documents for Qatar in Ukraine and other countries across Europe is that the package of a specialist/bachelor/master diploma together with an archive certificate from a university and supplement/transcript/appendix with notarized translation into English or Arabic has to be prepared for legalization at Ministry of Justice of Ukraine, Ministry of Foreign Affairs of Ukraine and Embassy/Consulate of Qatar in Ukraine. Moreover, it's possible to legalize and attest a diploma, transcript/supplement/appendix with archive certificate to use them in Qatar for full time students only. It's not rare when authorities in Qatar require a valid police clearance certificate (criminal record, police record, certificate of good conduct, police certificate, non-conviction certificate, police check, PCC, background check) from Ukraine, Russia, Belarus, Poland, Moldova, Romania and other countries of Europe. Once translations of a diploma accompanied by an archive certificate and transcript or supplement or appendix with marks and educational hours are attested and legalized by Embassy/ Consular Section/ Consulate of the State of Qatar in Kiev/Kyiv, Ukraine and stamped, they can be successfully accepted by any authority in Qatar.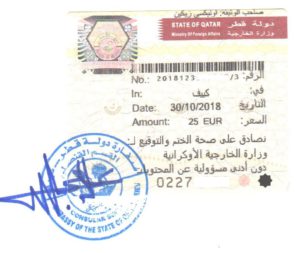 And your professional translation, apostille and legalization company of Europe is ready by your side to handle any issues regarding legalization, attestation and authentication of educational documents issued in Ukraine (Kiev/Kyiv, Kharkiv/Kharkov, Dnipro/Dnepr, Zaporizhzhia/Zaporozhye, Odessa, Lviv) for Qatar.